Roush Performance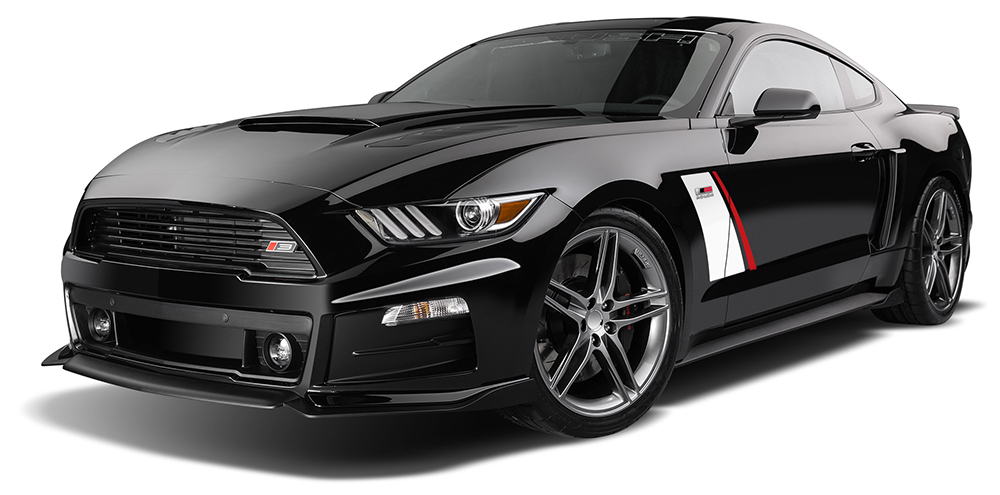 THE 2017 ROUSH STAGE 3 MUSTANG

"Ford has once again provided an excellent platform for us to develop our own vision upon." – Jack Roush.
The 2017 ROUSH Stage 3 is truly the ultimate in American muscle. Jack Roush's vision shines through this perfect combination of raw power and meticulous handling and braking capabilities, providing the driver access to the robust attitude and performance of a race car, while maintaining a comfortable and uniquely "ROUSH" driving experience.
The 2017 ROUSH Stage 3 Mustang is a state-of-the art muscle car that combines world class handling with Detroit-born grunt. Under the hood, the ROUSHcharged 5.0L V8 power plant pumps out 670 horsepower courtesy of the ROUSH Performance R2300 TVS supercharger. That's more horsepower per liter than any other American OE muscle car on the market. It goes without saying that the RS3 is a force to be reckoned with on and off the track, and a ten-second quarter-mile elapsed time is a real possibility with a racing tire and an experienced driver behind the wheel.
INNOVATION IN PERFORMANCE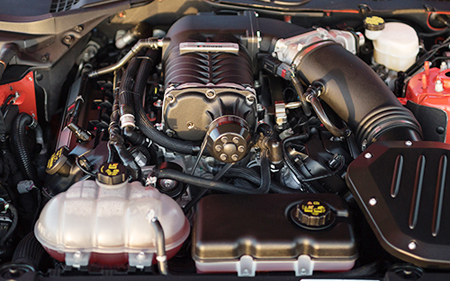 ROUSH is a name synonymous with high-horsepower, fiercely-competitive Ford vehicles. The ROUSH Mustang is powered by the culmination of decades of racing experience and ROUSH heritage, and the new 2015 ROUSH Stage 3 Mustang continues that tradition. With a ROUSHcharged Coyote 5.0 under the hood, the 2015 ROUSH Stage 3 has more horsepower-per-liter than any other OE American muscle car, while maintaining an unrivaled level of driveability.

You can hear the Stage 3's power pulsing through an innovative new ROUSH Active Performance exhaust system. This game-changing system gives full control over the volume and tone coming from a Quad-Tip Stainless steel ROUSH exhaust. Select modes ranging from the subtle "touring" mode, dynamic "sport" mode, and wide-open "track" mode. With the "custom" mode you can program your own dynamic profiles with virtually infinite sound possibilities, right from your mobile device.

"The RS3's performance stems from a balanced combination of elements. True performance has many dimensions..." – Jack Roush Jr.

TRACK-BRED HANDLING

The new 2015 Stage 3 Mustang embodies the legacy of ROUSH Performance's racing heritage. The experience gained through ROUSH racing programs is integrated into every ROUSH Mustang's chassis, making the 2015 Stage 3 the best-handling ROUSH Mustang yet. Taking full advantage of the 2015 Mustang's all-new independent rear suspension and pairing it with a standard height adjustable coilover suspension makes for the ultimate balance of performance and streetability. The optional three-way adjustable TrakPak coilover suspension allows for adjustment of height, compression, and rebound, allowing you full control over your Stage 3 in the corners.

OUR PROMISE
At ROUSH Performance, it's not enough to deliver heart-pounding performance, unparalleled refinement, and race-inspired styling. We take a step further and back-up the 2015 ROUSH Stage 3 Mustang with an industry-leading 3-year, 36,000 mile limited warranty so you know that we're along for the ride.
Our vehicles are rigorously engineered and tested to prevent issues down the road, but should they occur, you can rest assured in knowing that we're here to help.